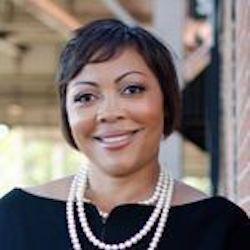 Asha Pinkney Gillus
Board Member
Asha Pinkney Gillus serves as the Director of Human Resources at Martha's Table. She is responsible for all internal operations and people functions of the organization. In this role, she aligns all infrastructure divisions to ensure they are integrated, efficient, sustainable, and compliant with all relevant regulations. Under her leadership, processes have been automated and streamlined, pipelines of talent have increased, and costs have reduced significantly.
Ms. Pinkney Gillus has over 20 years of experience in human resources in a variety of industries. Her career has been built on providing organizations with the best talent available while positioning them as an employer of choice.
Ms. Pinkney Gillus hold a M.P.S in Human Resources Management from Georgetown University and a B.S. in Business Administration from Bennett College. She is the mother of two amazing children, Caleb and Channing. She and her family are proud sixth-generation Washingtonians.
Asha is the leader of the group Channing's Champions. For the last two years, they have been a top fundraiser for Step Up and are very active in the Down syndrome community. In her spare time, she enjoys resting on the beach with a good book, binge-watching the latest shows, and catching up on pop culture with Wendy Williams.