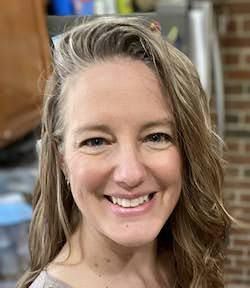 Kristi Maeng
New Family and Medical Outreach Coordinator
Kristi could not be happier to be coming back into the working world as a part of DSNMC. For the last 8 years she has been a stay-at-home-mom, PTA president, substitute teacher. Kristi received her Bachelor's degree and then Masters in Education and taught middle school Sciences for 10 years prior to motherhood.
Kristi and family have been part of the DSNMC network since 2017 after son, JoJo, was born with Ds in November of 2016. Finding a support group to navigate the Ds diagnosis was a little rocky in the beginning and it is her greatest hope to use this position so that all families know there is a support system waiting with open arms.
In her personal time, Kristi enjoys being with her family: Clarence (husband), Katelin (daughter), JoJo (son) and Michael (son). She also loves to find comfy, quiet places to delve into a good book.