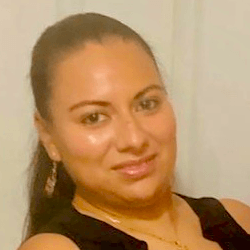 Thelma Salmeron
Board Member
Thelma Salmeron Viana is 33 years old and originally from El Salvador. She is the eldest of a large family with 3 brothers and 3 sisters. Looking for a better future for her and her family, she moved to the United States at 18 years old.
In El Salvador, Thelma studied Civil Engineering for 3 years before immigrating here. She has worked at Irene's Pupusas (one of the Step Up Walk sponsors) since 2005 as a cashier and waitress. She has also taken ESLA classes at Montgomery College (English as a Second Language Assessment).
Thelma and her husband, Oscar Salmeron, have two daughters and Melissa, 11 years old, has Down syndrome. They have been connected with DSNMC since Melissa was born and got involved in the organization. Their second daughter, Madison, is 16 months old.
Thelma loves helping people, advocating and trying to make everyone aware that people with disabilities are like any other person and that they can do whatever they set out to do. In her free time, she likes to go to the park with the girls, to the cinema or meet with her family and cook. Thelma loves cooking!